Whether you're a regular visitor or more seasonal, much has been changing at LL Creations, despite being a behind on posting regular blog updates.
Some of the highlights include:
We have introduced many new designs for both our standard and luxury card collections.
Introduced personalised hand crafted photo albums
Undertaken a large corporate (luxury) Christmas card order for the USA.
New branding, we are slowly implementing a new look website. Read more about it here.
Sneak peak at a couple of our new designs
We have two new card designs for February, which can be found in handmade valentines section. One for the romantics among you and one for those who like it a little bit cheeky!
'My Heart Flutters' (pictured left) is a simple design with lots of sparkle. This beautiful handmade valentine's card features a central series of layered hearts, in light coral, vibrant red and iridescent pink colours.
Do Not Disturb (pictured right) is a cheeky take on Valentine's Day, yes folks it could be happening right next door this valentines!

We would love to hear your thoughts and any reactions to your loved ones unveiling.
Hand crafted photo albums have been a hit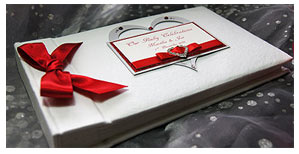 Since releasing our photo albums they have proved to be popular,  especially when purchased as part of a matching gift particularly for anniversaries and birthdays. Whilst new designs are in the pipeline, we are always keen for your input on any other styles or occasions you would like to see.
A MERRY CORPORATE CHRISTMAS!
LLC has also undertaken some large corporate Christmas card orders this year and in particular one very large order to the USA for their clients for Thanksgiving. The clients order was handmade in record time and included 167 meters of ribbon and a total of 4,340 Swarovski flat backed crystals.
Our team is always able to take on large corporate orders, with sufficient notice. If your company has a requirement for a large order for corporate invitations, Christmas cards or handmade thank you cards please contact us for more details.
The new branding is coming online
Our new homepage has now been released with a fresh modern look and layout, which we hope better reflects Looney's style and upbeat nature. In addition to our new on-page look, we have revisited our branding and chosen a new colour scheme, featuring rich purples, vibrant turquoise and silvery grey.
We are looking forward to completing the transition and hope you like the new look.
Thank you for taking the time to read this post, we would love to hear any of your feedback and comments.
Bye for now
Looney - Mwah!