Looney's Handmade Wedding cards
RSS

Handmade Wedding cards to congratulate that special couple on their wedding day. What better way to send your best and warmest wishes to the couple then by selecting a stylish and unique handmade wedding card by Looney Lizard Creations.

All of my handmade wedding cards come with a greeting on the front or can be personalised for FREE. If you want your card to be extra special and memorable, why not add one of my decorated gift boxes, please see product details for further information.

If you would prefer the design in a different colour, then please contact me to discuss your requirements before placing an order.
1 Item(s) - You can view as either: Grid List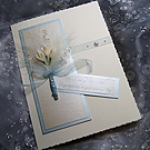 A stunning design featuring a wedding bouquet which is created using white fluffy feathers, silver twisted wire and a trio of calla lilies and finished with light blue organza ribbon tired into a bow. The bouquet is mounted on ivory and pale blue pearlescent paper.
1 Item(s) - You can view as either: Grid List